September 21, 2011
Mixtape: G.O.D. Jewels - ReasonableMatic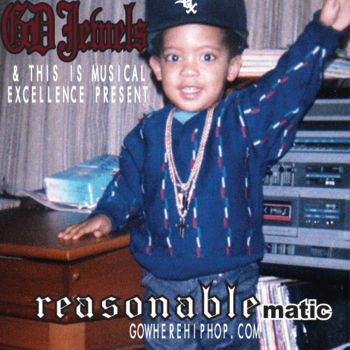 June 13, 2011
The Boy Illinois ft. G.o.D Jewels - Cardigan Sweater
New Video from The Boy Illinois' Inhale Pt. 3: After School Program featuring the homie G.O.D. Jewels.  I see you @TheeHeroGeorge!
(Source: fakeshoredrive.com)
May 6, 2010
Shit you should download…
Jeezy finally releases Trap or Die 2 after a painfully long wait. This joint right here is/was kinda like the mixtape version of Detox, where it's been mentioned as being in the works forever but the final product never looked to be in sight. Well after originally DJ DRAMA as the tape's host Jeezy thankfully dropped it with Drama's former aphilliate (see how I did that) Don Cannon instead.  This tape is pretty fucking solid, although it doesn't really touch the legendary Trap or Die it definitely has it's moments. If you love trap music you'll love this shit.
Joints I Really Fuck With:
Ride With Me feat Trick Daddy & Scarface & Ill'in feat The Clipse
Ratatat is probably most known amongst my peers as the guys who had "features" on a couple joints on KiD CuDi's album, most notably 'Pursuit of Happiness'.  The reality of the matter is that Ratatat creates instrumental awesomeness pretty much at a whim. LP4 is great to listen to stoned when you don't exactly feel like hearing anyone speak, I really recommend it. This apparently doesn't come out until June, but whatever, enjoy while you can!
Joints I Really Fuck With:
Neckbrace & Grape Juice City
Fresh off of some major cosigns (Q-Tip, Kayne's Blog, Raekwon) homie YP teamed up with DJs Sean Mac and Head DeBiase to release his latest mixtape Next Up. The mixtape features joints with GLC, Brain Hussla, Mikkey Halsted and more.
Joints I Really Fuck With:
I Wanna Smoke feat Bighomie DOE & Welcome To The Land
G.o.D. Jewels: Greatness Opens Doors
G.o.D. Jewels is somewhat of an enigma to me. I have seen him out and about several times and we actually share some mutual friends, so when I first heard that he could rap I was kinda taken aback… Not that he looks like he can't rap, I just didn't expect it but then his video for 'All Things Go' hooked me. His mixtape has a very specific sound and is very cohesive which is definitely a 'unicorn' now-a-days.
Joints I Really Fuck With:
All Things Go & Under The Act
April 27, 2010
G.O.D. Jewels 'All Things Go'
The homie Josh (@EdwigPierre) sent this through last night and it goes hard… G.O.D. Jewels is a young cat from the Southside who's recently had a few tracks grace the internet, but this video right here… This shit is dope, I hope to see more of this.